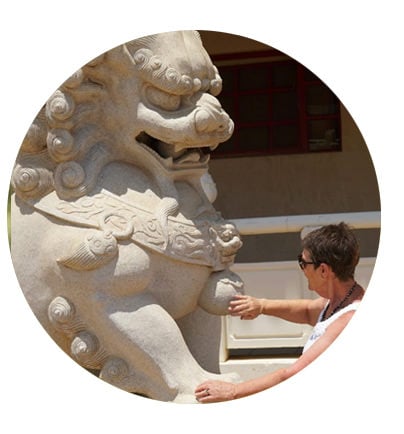 Moira was born and raised in Bolton Lancashire, England, and moved to South Africa in 1974, immediately falling in love with the diversity of the sunny country.
She is a great lover of Tai Chi, Qigong and meditation. She does wellness volunteer work conducting a group of ladies through these arts practices.
Moira is a warm individual, who personally keeps the guesthouse serene gardens with water features, chimes and bird feeders. She started Sleepeezy Cottages in 2005.
Her vision of hospitality is to welcome people in a clean and calm place, where they can feel at home, be tranquil and private, while having a taste of what South Africa has to offer after long travels or business activities.
Moira will be pleased to welcome you and to help in any way she can. You will see her around during breakfast time or in the gardens.
Feel free to meet her at the reception in the case you need something.
Thank you for supporting small businesses.
"It is a lovely hotel, with rooms around a nice garden, comfortable beds and amazing breakfast! The two owners are at the reception making sure everything is Ok and we had all that we needed, they even helped us with our laundry. The place is nice and quiet, we couldn't even hear the planes! In summary if you are looking for a hotel close to the airport in Joburg, this is an excellent place to stay!"
Dear Moira, I just want to tell you, thank you so much for everything you did for us, each day you asked us what can I do for you,what do you need, is everything perfect? We were very lucky to meet you the day before the lockdown because I'm sure we slept in the car for a long time, you saved our life. Now we are at home however it's the quarentine (14 days for us again ) but it's so easy at home! I could'nt do that when I was at your cottage but now I can hug you and kiss you. You're the best 💋💋💋❤❤❤
"Hosts Moira and Lawrence really friendly and very helpful. Area safe and within walking distance of restaurants. Accommodation clean and really nice. Breakfast excellent."
"Wonderful friendly owners. The rooms were clean & the mattress good to sleep on. The pool looked great, unfortunately it rained so we couldn't swim... Thank you very much. This will definitely be our Joburg stopover from now on."
Already 2 weeks passed since we left your place. Our trip back home was long but everything went smoothly. There was no problem on the highway... it took us only 30 min to reach the meeting point. I hope everything goes well for you, your son and your guests. Thanks again for your kindness and for everything you did for us.